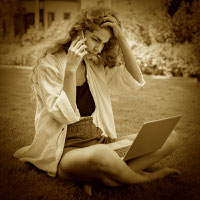 The figures are impressive: even though the Canary Islands were already a popular spot for digital nomads before the pandemic, there has been a considerable increase of remote-workers on the islands at the latest since lockdown and the new opportunities of mobile working.
The tourism ministry of the Canary Islands now wants to pay more attention to this new target group.
Surprisingly no one seems to doubt the ministry's competence in this matter.
STOP!!!
Couldn't we hold our breath for a moment and ask ourselves if the typical remote worker can be a typical tourist at the same time?
Regarding to all the consequences and implications that this classification will bring for the islands and their locals?
This issue has been on my mind. I have put my thoughts down on paper and will publish the result as a post on LinkedIn soon.
You can read the article in advance by downloading it if you are also interested in the topic.
Please feel free to let me know what you are thinking about it: Write a comment and/or follow me on LinkedIn.
---